Opening Times & Store Location
Christmas Opening Hours | Click here
Workshop | Wednesday, Thursday & Friday 10-4pm, Saturday 10-12:30pm
Coffee Pod | We have resized the Pod & Pip cafe now called the 'Coffee Pod' to make room for our exciting clothes range. The Coffee Pod will be open Wednesday, Thursday and Fridays 10-4pm and Saturday 10-1230ish serving coffee, tea and Alix Fauvel's delicious cakes. We are no longer serving light lunches but do pop in for a natter, coffee and shop with friends!
Directions | Situated in the stunning Wiltshire countryside just a couple of miles from Salisbury. Plenty of parking and a short hop in a taxis if coming by train!
When you reach Stratford Tony, Sat Nav will take you into the village, don't turn off the main road  into the village keep on the main road going towards Bishopstone/Broadchalke and we are literally 20 metres past the farm buildings on the left-hand side. ​Big Pod & Pip sign on the front you can't miss us!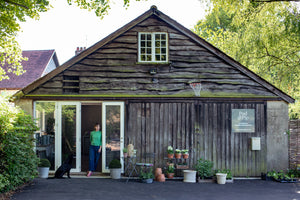 Our Store
Pod & Pip, Ebble House, Stratford Tony (between Broadchalke and Coombe Bissett), Salisbury, Wiltshire, SP5 4AT